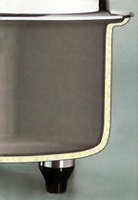 The oil core liquid is sealed between layers of a superior quality, carbon core, stainless steel to provide the ultimate in heat conduction.
Eliminates hot spots
Keeps foods warm even after the skillet is unplugged
Energy efficient
Goes from kitchen to table for serving convenience. Perfect for tailgating, potlucks and traveling.
Welcome Home… Dinner is Ready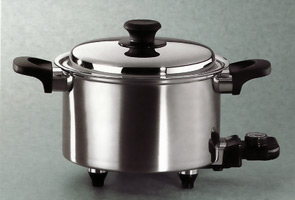 Stews
Soups
Pot Roasts
Sauces


Beans

Rice Cooker
Oil Core Cookware – A Must For Every Kitchen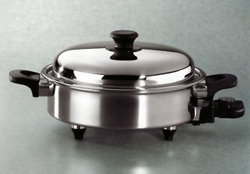 Sear meats, sealing in flavor
Fry without grease/oil for heart-healthy meals
Frozen to finished meals in less than 30 minutes

Casseroles and lasagna in a third of the time
Stir-fry meats and vegetables
Bake a cake, pizzas, potatoes, vegetables, or rolls
Poach fish or fruit
Perfect for delicate seafood